FIGMAS: Focused Interest Group on MicroAnalytical Standards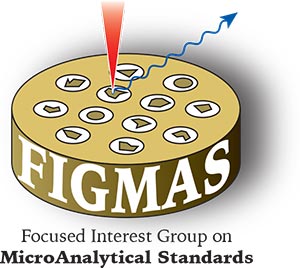 Welcome to FIGMAS! Here you will find information on our group, which aims to build a database on available microanalytical standards for electron microprobe, scanning electron microprobe, and other in situ instruments that provide quantitative chemical analyses (e.g., LA-ICP-MS).
FIGMAS is a Focused Interest Group (FIG) of the Microscopy Society of America (MSA), and is co-sponsored by the MicroAnalysis Society (MAS). All MSA, MAS, IMS, MSC/SMC members are eligible and encouraged to participate in this FIG for a $10 annual fee.
Official documents can be found under menu Info & docs!
Pre-Meeting Congress (PMC) - X61: "Standards and Reference Materials for Microanalysis"
https://www.microscopy.org/MandM/2018/program/congress_X61.cfm
FIGMAS is organizing a PMC on Sunday August 4th, 2018 (8:30 AM to 5:30 PM). The PMC will include discussions on standards and reference materials used in a large variety of microanalytical techniques (SEM-EDS, electron microprobe, TEM, LA-ICP-MS, etc.) and their current and future needs. The PMC will consist of three main topics with their set of invited speakers from academic and federal institutions as well as industry (title of each talk to be announced later):
1 - Standard-based and standardless best practices
Nicholas Ritchie (NIST)
Philippe Pinard (Oxford Instruments)
Steve Seddio (Thermo Scientific)
2 - Standard maintenance and availability
Cathy Johnson (Mager Scientific)
Tim Rose (Smithsonian Institution - National Museum for Natural History)
Gene Rodek (SPI)
3 - Sourcing and creating future standard materials
Steve Wilson (USGS)
William Nachlas (Syracuse University)
PROGRAM BOOK - Pre-Meeting Congress X61 (Baltimore, MD):
PMC X.61 - program book (high quality, 11.6 MB)
PMC X.61 - program book (low quality, 2.1 MB)
Many thanks to our sponsors for the Pre-Meeting Congress X.61 at Microscopy and Microanalysis 2018!!!
| | | | |
| --- | --- | --- | --- |
| Gold sponsor | Silver sponsors | Bronze sponsors | Steel sponsors |
Does your company want to support our FIG? Contact Julien!
Next business Meeting
Microscopy & Microanalysis (M&M) 2018 - August 4-9 in Baltimore, MD
Tuesday August 7th, 2018 - 12:15 to 1:15 PM - Room 332
FIGMAS election 2019-2020
FIGMAS will need to elect a new leader-elect and a secretary-treasurer. Members are invited to nominate a candidate by July 20th, 2018. The official election ballot will occur at the FIGMAS business meeting at the Microscopy and Microanalysis 2018 meeting in Baltimore, MD.
Members: Log in the member section for more info on the election, or check your email box.
FIGMAS committee 2017-2018
Julien M. Allaz (Leader; University of Colorado Boulder)
Anette von der Handt (Leader-elect; University of Minnesota)
Owen K. Neill (Secretary-Treasurer; University of Michigan)
Many thanks to our sponsors for the Pre-Meeting Congress X.61 at Microscopy and Microanalysis 2018!!!
| | | | |
| --- | --- | --- | --- |
| Gold sponsor | Silver sponsors | Bronze sponsors | Steel sponsors |