FIGMAS: Focused Interest Group on MicroAnalytical Standards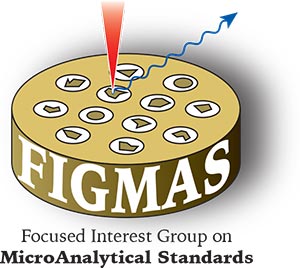 Welcome to FIGMAS! Here you will find information on our group, which aims to build a database on available microanalytical standards for electron microprobe, scanning electron microprobe, and other in situ instruments that provide quantitative chemical analyses (e.g., LA-ICP-MS).
FIGMAS is a Focused Interest Group (FIG) of the Microscopy Society of America (MSA), and is co-sponsored by the MicroAnalysis Society (MAS). All MSA, MAS, IMS, MSC/SMC members are eligible and encouraged to participate in this FIG for a $10 annual fee.
Official documents can be found under menu Info & docs!
Next business Meeting
Microscopy & Microanalysis (M&M) 2020 - August 2-6 in Milwaukee, WI
Location, date and time TBD
Pre-Meeting Congress (PMC) - X61: "Standards and Reference Materials for Microanalysis"
https://www.microscopy.org/MandM/2018/program/congress_X61.cfm
The PMC organized by FIGMAS on Sunday August 4th, 2018 was a success! Many thanks to our speakers, the sponsors, and to all the attendees! You will find below a recapitulation of this meeting, along with a link to download the program book.
1 - Standard-based and standardless best practices
Nicholas Ritchie (NIST)
Philippe Pinard (Oxford Instruments)
Steve Seddio (Thermo Scientific)
2 - Standard maintenance and availability
Cathy Johnson (Mager Scientific)
Tim Rose (Smithsonian Institution - National Museum for Natural History)
Gene Rodek (SPI)
3 - Sourcing and creating future standard materials
Steve Wilson (USGS)
William Nachlas (Syracuse University)
PROGRAM BOOK - Pre-Meeting Congress X61 (Baltimore, MD):
PMC X.61 - program book (high quality, 11.6 MB)
PMC X.61 - program book (low quality, 2.1 MB)
Many thanks to our sponsors for the Pre-Meeting Congress X.61 at Microscopy and Microanalysis 2018!!!
| | | | |
| --- | --- | --- | --- |
| Gold sponsor | Silver sponsors | Bronze sponsors | Steel sponsors |
FIGMAS committee 2019-2020
Anette von der Handt (Leader; University of Minnesota)
Will Nachlas (Leader-elect; Syracuse University)
Owen K. Neill (Secretary-Treasurer; University of Michigan)