Please, wait... Script in progress...
If this page is still visible after a 5-10 seconds...



...and report any error you might see
in the page to the webmaster (see contact page)...
About FIGMAS
Introduction to FIGMAS || Current committee (2019-2020) || Past committees (2017-2019)
What is "FIGMAS"?
FIGMAS is a group aiming to catalog and to create new standards and reference materials (S-RM) to be used by microanalysts (electron microprobe or scanning electron microscope with EDS or WDS, LA-ICP-MS, etc.).
Introduction to FIGMAS
It has been recognized over past years that different electron microprobe (EPMA) and scanning electron microprobe (SEM) laboratories each use different sets of S-RM for compositional analysis. Unfortunately, supplies of some of these S-RM are at or nearing exhaustion, while other S-RM have only been available to a restricted group (e.g., internal reference material). Furthermore, the accuracy of reference compositons and homogeneity of some reference materials has been called into question.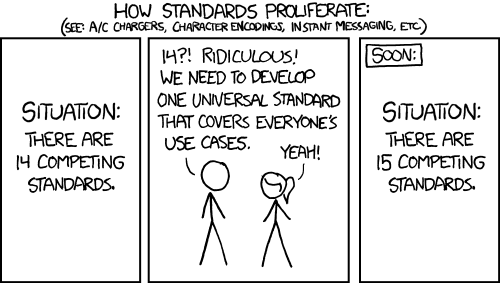 Copyright © XKCD
The microprobe community needs a better assessment of the availability and quality of S-RM, along with the determination of the need for new S-RM. To remediate this problem, the Focused Interest Group for MicroAnalytical Standards (FIGMAS) aims to promote and facilitate the creation of a community-wide S-RM collection that supports consistency and inter-laboratory comparison. Part of this effort will be to create a database of the currently available S-RM used in EPMA and SEM laboratories. This database will be used to assess the quality of existing S-RM and the need for additional reference materials for quantitative electron microprobe analyses by energy- and wavelength-dispersive X-ray spectroscopy. In the future, this database could be extended and cross-referenced to other S-RM databases already available for other analytical techniques (e.g., GEOREM for laser ablation ICP-MS, SHRIMP or SIMS).
Current committee (2021-2022)
Will Nachlas (Leader; University of Wisconsin, USA)
Emma Bullock (Leader-elect; Carnegie Institution, USA)
Owen K. Neill (Secretary-Treasurer; University of Michigan, USA)
Past committees
2019-2020
Anette von der Handt (Leader; University of Minnesota, USA)
Will Nachlas (Leader-elect; University of Wisconsin, USA)
Owen K. Neill (Secretary-Treasurer; University of Michigan, USA)
2017-2018
Julien M. Allaz (Leader; ETH Zürich, Switzerland [formerly at CU Boulder, USA])
Anette von der Handt (Leader-elect; University of Minnesota, USA)
Owen K. Neill (Secretary-Treasurer; University of Michigan, USA)